SHOWCASE
A - C
D - F
G - I
J - L
M - O
P - R
S - U
V - X
Y - Z
0 - 9
Recently
Added
Missing
Content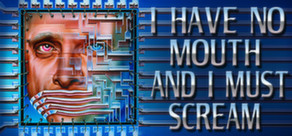 I Have No Mouth, and I Must Scream
| | | | | | | | | | |
| --- | --- | --- | --- | --- | --- | --- | --- | --- | --- |
| 8 | TRADING CARDS | 5 | BADGES | 1 | FOIL BADGE | 7 | EMOTICONS | 6 | BACKGROUNDS |
BOOSTER PACK

BADGES

It wouldn't hurt you to remember, Benny.
Level 1
XP: 100

You've been keeping secrets.
Level 2
XP: 200

Now, now, don't start to cry...
Level 3
XP: 300

This must be heaven!
Level 4
XP: 400

The room is padded, Gorrister.
Level 5
XP: 500
FOIL BADGES

I think, therefore I AM.
Level 1
XP: 100
EMOTICONS


:benny:
Common

:ellen:
Common


:gorrister:
Common


:nimdok:
Common


:ted:
Common


:nomouth:
Uncommon


:mustscream:
Rare